CNC is an abbreviation for "computerized numerical control" and means the automation of machine tools by means of computers executing commands and thus controlling movements of the tool and machine.
CNC machines are absolutely mandatory in today's manufacturing processes in almost every industry.
As industrial-scale production of items is hardly ever done by manual/conventional machines anymore the manufacturing process can be completely automated without any need of human labor.
That is to say that CNC machines not only provide much more speed and performance but are also much more accurate than any hand-operated machine. And of course they're able to travel non-straight contours.
CNC controlled machines are most commonly milling machines, lathes, and plasma cutters; however, CNC is also used for gluing, drilling, fabrics cutting and many more.
This page will provide a closer insight into CNC milling machines, CNC gantry routers in particular.
What is a CNC Machine?
Unlike a lathe, a mill doesn't achieve material removal by rotating the workpiece but by rotating the cutting tool.
This rotating tool is then moving along the workpiece doing the chip removal.

Simple machines provide three axes which enable it to reach every coordinate within the travel range.
Bigger machines often provide a fourth and fifth, rotating axis. These rotary axes allow it to machine overhangs and hardly reachable positions.

Depending on the requirements of stability and speed, a mill can be chosen from Knee-type milling machines, Ram-type machines or Gantry-/Vertical machine centers.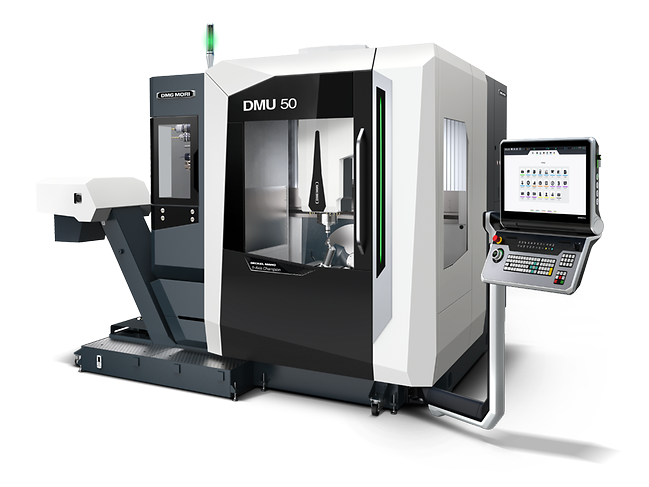 Moving-gantry machines are very common in semi-professional workshops and hobby garages as they offer a lot of travel range on very small operating dimensions and thus fit into small workplaces too.
Relatively stiff gantry constructions have been designed without the use of concrete (UHPC → Ultra high-performance concrete) or tons of steel or cast iron. This makes the gantry construction a perfect model for limited financial resources.
Another advantage of gantry machines is the possibility of increasing the Y-Axis to almost any length.
The only factor limiting it is the ball bearing and linear technology driving the gantry.
However, a negative aspect is that the whole construction gets less rigid when increasing the height of the gantry which is why the travel range of the Z-Axis is limited.
That's why gantry machines are perfect for milling huge plates and flat parts but not tall applications.
Typical travel ranges for a medium-large sized gantry router are 25" in X by 40" in Y by 6" in Z.
Basic Parts of a Machine with Moving Gantry
Machine Bed
The machine bed is the base of the machine and where vises or clamping options are mounted.
It is immovable and should be very resistant to bending- and torsional loads which is why it ideally should be braced.
A common machine bed is a frame of aluminum profiles.
This is very suitable because the profiles already have T-Slots where the linear rails can be mounted fairly easy.
The machine bed has linear rails, a ball screw and a motor mounted to carry the gantry.
Gantry
The gantry is the moving part of the machine.
The whole gantry is mounted on linear rails on the machine bed and can move in one axis.
Movement is achieved by:
A driven ball screw pivoted on the machine bed and a ballnut mounted on the gantry

It's the typical approach where the ball screw is pivoted using locating/non-locating bearings.

Angular ball bearings are tensed on one end of the screw to absorb axial loads and a single deep groove bearing is used on the other side of the ball screw to deal with radial forces.

2x Type 7201 are often used as the locating bearing whereas Type 6000 is commonly used as a non-locating bearing.

The ball nut is mounted to the gantry, normally on the bottom plate that is connecting the both sides of the gantry.
Since the ball screw cannot move, it will move the portal by rotating the ball screw.
At this time, while setting up the machine the whole process can be tested by chucking the ball screw in a cordless drill and accelerating fully.

Driven ball screw and fixed ball nut
(click to see animation)
A rotating ballnut mounted on the gantry and a stiff ball screw mounted on the machine bed

This method is used for very long travel ranges.
Normally the ball screw would be sagging by its own weight and cause an major imbalance when rotating. This causes vibrations and resonances on the machine which can have an impact on the milling result.
To prevent this the drive motor is mounted on the gantry, driving the nut instead.
The ball screw is no longer pivoted as in the example above. It can neither move nor rotate in any direction.
Unfortunately this construction is more difficult because the drive motor needs to be mounted on the moving portal instead of the fixed machine bed.

Empirically, driven nuts only make sense on travel lenghts bigger than 50in (1300mm).

Driven ball nut and fixed ball screw
(click to see animation)
Linear guidance
Linear guidance is used to absorb transverse forces and guide the block along the guidance.

Profiled rail systems can absorb high forces and keep the construction rigid.

They are also available as preloaded versions.

Preload means that the manufacturer already builds in a tension that is present even when no external forces are taking effect. This prevents any play or backlash between the linear guide and the linear carriage but needs more maintenance and lubrication.

Cheap linear bearings won't offer enough accuracy and will eventually bend away when high cutting forces are applied.
Ball screws
Ball screws are used to convert rotatory movements to translational motions. They are available with different pitches. Pitches define the ratio between rotations and covered linear distance. Example: A ball screw with a pitch of 5mm will move the ball nut 5mm when performing 1 turn.

Ball screws are normally indicated by the following scheme: Diameter + Pitch A ball screw with a diameter of 16mm and a pitch of 5mm thus will be stated as 1605

Quality determines how precisely the machine will work as a poorly manufactured ball screw could have a pitch of 5.05mm instead of 5.00mm. This will obviously result in an oversized part in the end which is why ball screw accuracies are standardized. (Lead Angle Accuracy)

Accuracy classes are:
C0 with a maximum tolerance of 0.004mm/300mm
C1 with a maximum tolerance of 0.006mm/300mm
C2 with a maximum tolerance of 0.008mm/300mm
C3 with a maximum tolerance of 0.012mm/300mm
C5 with a maximum tolerance of 0.023mm/300mm
C7 with a maximum tolerance of 0.050mm/300mm
C8 with a maximum tolerance of 0.100mm/300mm
C10 with a maximum tolerance of 0.210mm/300mm
Please note: Materials expand or contract with heat differences!
If you don't have a room that is temperature controlled, it makes no sense to install ≤ C5 graded ball screws!
A ball screw with a length of 1000mm (1m) and a temperature difference of only 10 Kelvin (10°C) will result in an expansion of 0.12mm. That is to say that this is already more than the production tolerance of a C5 graded screw on a length of 300mm (0,23mm < 0.036mm).
Apart from Lead Angle Accuracy another factor that's contributing to inaccuracies is a axial backlash between the actual ball screw and the ball nut.
This causes the ball nut to stand still until the backlash is exceeded, although the ball screw is rotating, resulting in a smaller workpiece than expected.
That's why you'll hardly face a case where your actual workpiece is bigger than intended.
Workpiece Measurement = Programmed Measurement - Backlash
Motor Unit/Spindle
The motor unit or spindle is normally a three-phase electric motor, sometimes having a gear-box in front of it. It is directly connected to the cutter or end-mill and therefore rotating it. While these spindles are often air-cooled in hobby machines, semi-professional and industrial machines normally use water-cooled spindles because their heat dissipation is much better; often, the spindle is quieter as well. A spindle needs a frequency converter which is converting the 50Hz or 60Hz that you get from your socket to the according frequency of your spindle. Increasing the frequency will result in higher rpm's – and the other way around. The most important criteria for choosing the right spindle are:
Maximum rpm

Small cutters have less circumference and therefore need a higher speed to achieve the same cutting speed as a big cutter -> click here to read more about cutting speeds

Minimum rpm

Big cutters have more circumference and therefore need less speed to achieve the same cutting speed as a small cutter.

Power

Cutting depth and speed are limited by the power of the spindle as it will just stop rotating when cutting forces are too high.

Spindle powers range from 300w for very small hobby desktop machines to >50kw for huge machine centers.

The Chinese High-Frequency Spindles like the typical 1.5kw, 2.2kw and 3kw ones have a maximum speed of 24k rpm at 400Hz, perfect for machining non-ferrous metals like Aluminum, Copper, Brass and lead.

Unfortunately, spindles usually have way less torque at low rpm's which makes it difficult to mill very hard materials like Steel or Titanium – especially with big cutters. My experience has shown me that 1/4" endmills still work impressively well using my 2,2kw spindle.

Runout

Runout describes the inaccuracy of a spindle in terms of rotating not a hundred percent centered. Runout is always present, there is no rotary system without any runout, but it can be reduced to a point where it does not disturb anymore. (pricey) The above mentioned Chinese spindles often have a grinded cone and thus relatively little runout which makes them very popular among hobbyists and semi-professionals. I have measured a runout of less than .0004in (.01mm) on my 2.2kw Chinese spindle which is really good, at least if no aeronautical superb accuracy parts are trying to be manufactured.